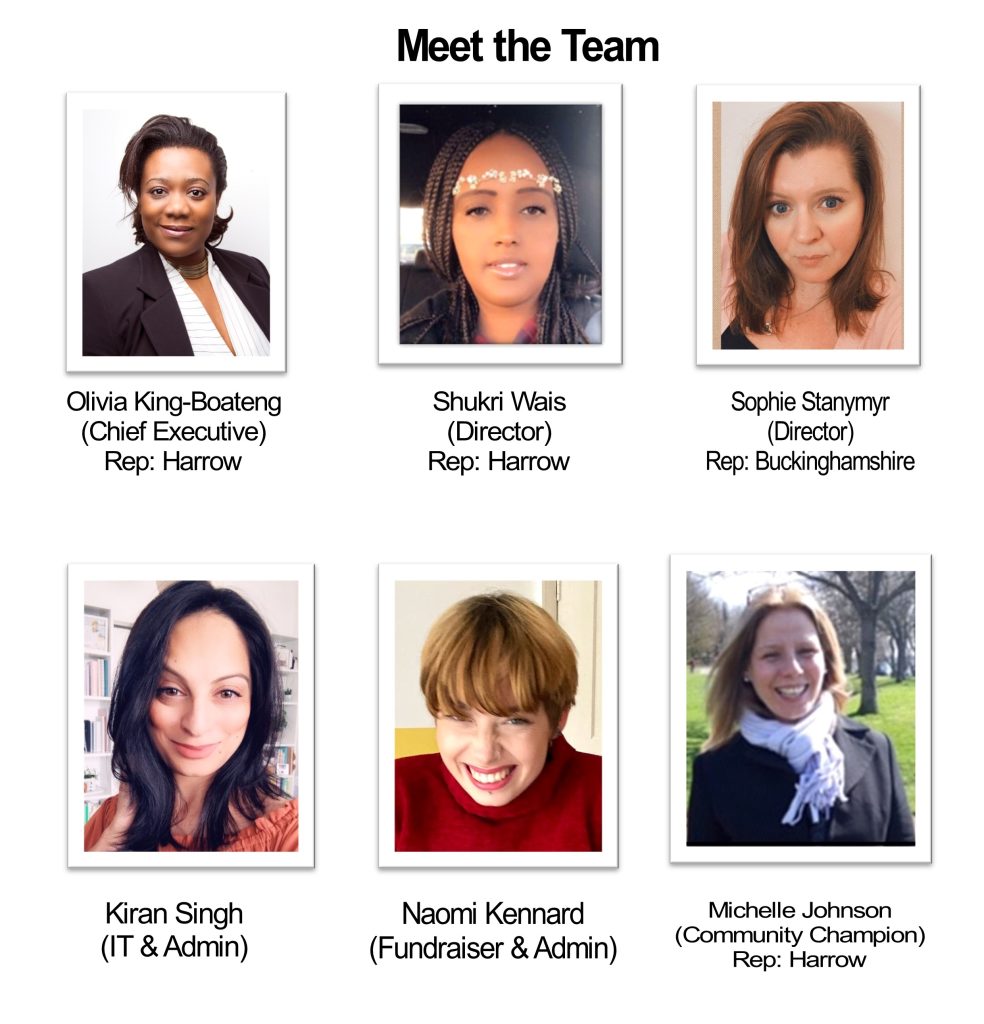 OLIVIA KING-BOATENG
CEO, Founder & Community Champion
I am a parent of a young person with Down's Syndrome and Autism. I am a trained Parent Ambassador, Engagement Consultant and chief executive of SNC. I was one of the founding members of the DfE funded parent carer forum for Harrow called Harrow Parent Forum (formerly, Harrow Parents 4 Disabled Children, which was formed out of the Aiming High for Disabled Children initiative in 2008). I was the Steering Group Chair from 2010-2015 and the Secretary from 2017-2020. Parent carer forums across the country are part of the Nation Network of Parent Carer Forums (NNPCF), which is a powerful force in promoting the participation of parents and carers in the decision-making process which involves policies and services for and involving children and young people from 0-25 years of age.
My son, Joseph, who is now 18, has Down's Syndrome, Autism and severe learning disabilities. He is passionate about music and drama, cooking and sports. Although he experiences a lot of challenges, he is quite simply his own person and assertive to boot. Joseph attends an independent special school and accesses various specialist play provision outside school where he interacts with his peers with learning disabilities. We are both well known in the community, him for his effervescent personality; and me for my community work and simply being his mum!
I am passionate about the SEND community, providing information and support for parents, working with professionals and other SEND organisations. I am also an entrepreneur and run several other businesses of my own.
For enquiries about Special Needs Community CIC, please email: olivia@specialneedscommunity.org.uk
For enquiries on other projects, please email: info@oliviakingboateng.com, Visit my website: www.oliviakingboateng.com
……………………………………………………………………………………….
SHUKRI WAIS
Director
About Me
Hello, my name is Shukri, I am a mum of an 11 year old son with ASD. I am from Somalia. I am an accountant and a director of Special Needs Community (SNC). I am also a Community Champion and interested in helping parents, especially from Somalia. You can share your experience of having a child with special educational needs or disability (SEND) I can provide information about what is available on the Local Offer and where to go to for support. You can ask me about the Short Breaks (respite), which includes playschemes and afterschool clubs. I can also tell you about how you can get the Max Card, which a special needs discount card, for your family to use at lots of different places such as Legoland, Alton Towers, and Thorpe Park.
You can contact me at Shukri@specialneedscommunity.org.uk
……………………………………………………………………………………………..
Sophie Stanymyr
Director
About Me
I am a mum to 10-year-old Alfie who has Autism & Sensory Processing Disorder. I am a serial entrepreneur, with my main businesses being photography & social media management. As a director of SNC, I am passionate about  meeting and helping other parents navigate this special needs journey we are on. Sharing experiences and knowing we are not alone is really important; knowledge of what is possible is the beginning of happiness. I believe we should teach our children they were born to stand out not fit in. Let's not let the world dim their sparkle, they are imperfectly perfect exactly as they are!
Contact me at: sophie@specialneedscommunity.org.uk
…………………………………………………………………………………………
Michelle Johnson
Community Champion
About Me
Hello, my name is Michelle Johnson. I am a mum of two young children. My son, aged 6, has ADHD/Autism. I have been inspired to work with SNC, for a few years now. I received a lot of support during a difficult time fighting to access social care provision for my son. SNC has helped our family understand and navigate the SEND system to the stage where we were awarded the appropriate level of provision to enable my son and my family to cope with his condition.
My Knowledge and Expertise
I am a trained Drama Therapist and a youth worker and qualified as a General Nurse. I have worked with all areas and ages of the community as a Drama Therapist.  I have also worked in General nursing and paediatrics.  I am currently working as a Drama Therapist Supervisor and as a Drama Therapist.
I was inspired to become a Community Champion because of what I have learnt on my journey. I now live in Harrow. I hope to support other families across London and improve their quality of life in the same way our family has been greatly supported. I can provide information and support on various aspects of your special educational needs and disability journey. As a foster carer, I am particularly knowledgeable about the foster care system and would be able to help you liaise with key professionals to access appropriate support and provision for your family in any borough of London and Greater London. Please contact me at: michelle@specialneedscommunity.org.uk
My Other Projects.
I am passionate about supporting my community and also working on a project to create a centre where vulnerable people can go to receive support in difficult times, called The Healing Centre. The Healing Centre will have localised mini hubs in each borough around the country called the Caring and Community Hub (CCH). I am working with various professionals, stakeholders, and agencies to create the first one based at Harrow. I welcome other passionate community volunteers to share in my vision and help me make this happen. Please contact me for further information at thehealingcentre2020@gmail.com.
…………………………………………………………………………………
Kiran Singh
IT Consultant
Kiran is a Lifestyle Coach, Author, Founder and Editor of Design the Lifestyle YOU Desire and My Unique Home.
Kiran has always been passionate about helping women envision, create and design the beautiful life they truly desire, to show them how they can start to live their life more fully and most importantly.
Kiran is also an IT Consultant that supports SNC's strategic objectives including, the communications, marketing, and social media development.
+44 (0) 7920226190
Hello!
You can contact me at kiran@snclondon.co.uk
…………………………………………………………………………………………..
Naomi Kennard
Admin and Research
Hello, I am Naomi, my pronouns are she/her! I am currently studying a part-time MSc Sustainable Development whilst working as a freelancer. Over the last few years, I have worked on many incredible projects with sustainable and community-driven companies. Ranging from Smarter Uniforms school reuse startup, Fair Trade virtual live event (Brighton and Home Bake Off 2021) and Caring Community Hub Harrow pilot scheme with Michelle. I am a creative person who also makes upcycled jewellery. I am passionate about empowering social justice and campaigning for mental health.
Naomi Kennard (she/her)
Administrator and Researcher
Contact me: naomi@specialneedscommunity.org.uk
…………………………………………………………………………………………………
TO JOIN THE TEAM OR FOR GENERAL ENQUIRIES- PLEASE GET IN TOUCH
You can contact us by:
Telephone: 07359030510
Email: info@specialneedscommunity.org.uk
Address: Cedars Hall, Artillery Place, Chicheley Road, Harrow HA3 6QJ