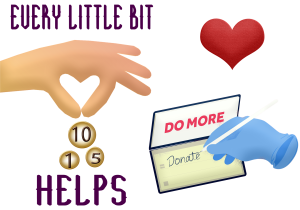 IF YOU SHARE OUR VISION FOR OUR SPECIAL NEEDS COMMUNITY, VOLUNTEER YOUR TIME, DONATE OR HELP US MAKE THE DREAM A REALITY.
Special Needs Community has a small staff team, most of whom are part-time, supported by a small group of volunteers, which provides services to thousands of local people every year. We never have enough funding to do everything we want to do and there are many areas where we could further develop services or work on making the world around us more accessible.
WAYS TO DONATE
PLEASE CONSIDER SENDING US A GIFT DONATION OF ANY AMOUNT – EVERY LITTLE HELPS. CLICK HERE TO MAKE YOUR GIFT SELECTION
Did you know that whenever you buy anything online – from your weekly shop to your annual holiday – you could be raising free donations for Special Needs Community CIC with easyfundraising?
There are over 4,000 shops and sites on board ready to make a donation – including eBay, Argos, John Lewis, ASOS, Booking.com and M&S – and it won't cost you a penny extra to help us raise funds.
All you need to do is:
Go to https://www.easyfundraising.org.uk/causes/specialneedscom/?utm_campaign=raise-more and join for free.
Every time you shop online, go to easyfundraising first to find the site you want and start shopping.
After you've checked out, the retailer will make a donation to Special Needs Community CIC at no extra cost to you whatsoever!
There are no catches or hidden charges and Special Needs Community CIC will be really grateful for your donations. We will keep posted about what your donation was spent on.
Make a donation via https://www.easyfundraising.org.uk/causes/specialneedscom/
Leave us a legacy in your will
……………………………………….
Send us a set amount through our Shop or Paypal Account:
……………………………………………
Send direct donations to us at our address via cheque:
​Special Needs Community CIC
Cedars Hall
Artillery Place
Chicheley Road
Harrow Weald
HA3 6QJ
Get in touch if you would like to find out more about other ways you can help us fundraise.
JOIN OUR FUNDRAISING TEAM AND HELP US FIND GRANTS TO SUPPORT OUR COMMUNITY WORK